Voice Over Production
We offer our clients the best in Interactive Voice Production for games, film and television. We have hosted many projects from companies including Electronic Arts, Activision, Ubisoft, Midway, Eidos, Warner Bros., Microsoft, Sony Online, Trion Worlds and many more. Our Voice Production staff has worked on numerous award winning titles including Call of Duty Mobile, Shadow of the Tombraider, Ghost Recon: Wildlands, Witcher 3, DmC: Devil May Cry, Prototype 2, The Secret World, Killzone: Mercenary, James Bond: Quantum of Solace, Fable 2 & 3, Rift: Planes of Telara, All Points Bulletin, Enslaved, Scarface: The World is Yours, Jade Empire, Resevoir Dogs, Call of Duty 3 (PSP), Tony Hawk: Downhill Jam, Driver: Parallel Lines and The Heroes of Might & Magic Series.. Services include all SAG signatory work, Union and Non-Union casting, directing, recording, mastering and editing. We are a full services provider for voice production in games with over 130 Commercial releases over the past 20+ years.
Our goal is to achieve the best possible quality for our clients in an intimate, cozy & comfortable studio environment for the quickest most efficient no compromise turn around. We want your project to sound the best from the start within an affordable budget.
We have the best recording equipment and experienced engineers to get the job done right. From a wide selection of microphones & preamps to the ability to do a certified Source-Connect (ISDN Broadband) Session directly from our studio to any other Source-Connect Protools Studio in the world, we can deliver any voice, anywhere, at any time. www.source-elements.com
Green Street Studios can also deliver Full Localization in 9 languages for any size project with our International partners and studios.
We offer:
Voice Over Casting
Voice Over Recording
Voice Over Direction
Script Writing, editing and localization in 9 languages
ADR Recording
Dialogue editing & mastering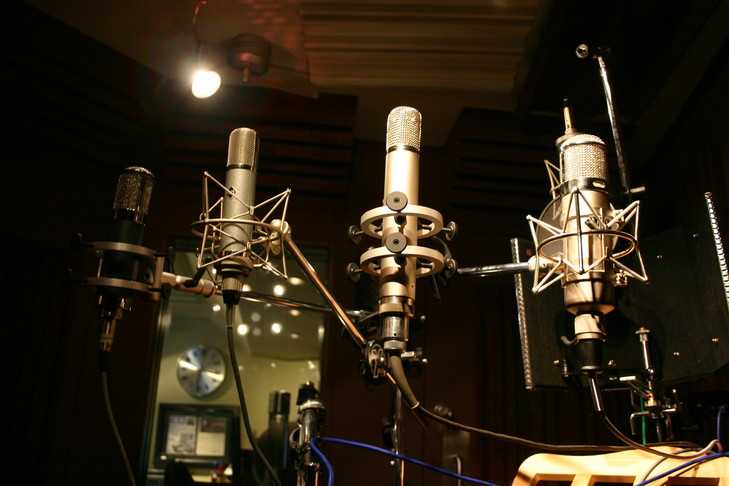 Soundelux U95, Gefel UM75, AKG C12, Wunder CM7 - Just a few of our over 100 new and vintage microphones
Sound Design
Whether it is creatures, guns, vehicles or sci-fi something or other, we can do the job. We are game sound professionals with over 20 years of experience in the business of sound. Our sound design team has worked on over 130 games, media, film and television for almost two decades. Our state of the art sound studio hosts a 4 Terabyte+ sound library, vintage and classic keyboards, numerous field recorders with over 100 microphones & remote gear (booms, windscreens, etc) and a separate Foley recording room.
Our studio is equipped to run the largest of any sound design or cinematic sound project with pristine audio quality on any budget. From stereo to multiple 5.1 surround formats (Dolby Digital, DTS, Circle Surround) we can handle all of the sound design in any format possible.
We specialize in creatures, weapons and anything audibly beautiful or disturbing :)
We offer:
Sound Design
Sound Supervision & Asset Management
Foley Recording
Field Recording
Below are just a couple of samples of our Sound Design & Mixing work. More samples available upon request.
Music
Our company was built on our ability to deliver compelling musical scores in any genre within any budget.
The staff composers in our studio have the ability to score to picture on site and deliver cues in any format available. With over 115 game credits, we can deliver music to any game genre. Classic Scores from franchises like Heroes of Might & Magic, Everquest, Might & Magic, Rift: Heroes of Telara have been done out of our studio for over a decade with the utmost quality. We have a 2 Terabyte+ Sample sound library with many custom recorded patches just for our studio use. The studio also has the ability to record any acoustic instrument to compliment your score with a nice selection of new and vintage outboard preamps, EQ's, Compressors, mics and the highest quality Lavry & Burl Digital Converters.
In addition to composing and scoring music, we also provide music supervision, orchestration and musicians as well as the ability to record anywhere in the world with a preferred orchestra of choice.
We offer:
Music Composition & Production
Music Supervision
Music Editing
Music Mixing
Music Recording
Over 100 Microphones
Mixing
From stereo to DOLBY ATMOS surround formats (Dolby Digital, DTS, Circle Surround) we can handle all of your projects final mixing, in any format possible. The Mixing room boasts a state of the art Avid Protools HDX rig, every major plugin (800+) including Waves Mercury bundle, Avid S3 & Protools Dock and 72 channels of I/O including the AVID MTRX. We only use the best in monitoring solutions with the new GENELC "The One's" Series in a 7.1.4 DOLBY ATMOS Configuration. Acoustics provided by Steven Klein & Jerry Steckling JSX Acoustics..
Mixing for today's media and Next-Gen Gaming platforms, is more detailed and complex than ever before. With most projects requiring various sample rates, codecs and mix deliverables from 5.1, 4 channel and stereo stems, Green Street Studios can deliver the goods. If you need a stereo ambient track or a 200 track cinematic audio mix in various stereo and surround formats, our staff will deliver the assets on time and on budget.
Our mix room has hosted everything from 5.1 film and game audio to full album projects on major labels. Regardless of the format, budget or timeline we can deliver your mixes on time with reliability, creativity and industry standards.
We offer:
DOLBY ATMOS 7.1.4 Mixing
Stereo & 5.1 Mixing
5.1 up & down convertion to stereo
Hybrid Mixing (Digital & Analog)
State of the art new and vintage outboard processors (API, Neve, Manley, Maselec, Amtec, RETRO, SPL, GML, Solid State Logic, Retro Instruments, Shadow Hills, Manley Labs, Bricasti, Eventide, Chandler Ltd.)
Sync to picture